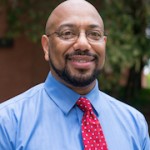 Shawn Bediako, Professor of Psychology

Shawn M. Bediako, Ph.D., is professor of psychology at UMBC where he affiliates with the community psychology and the behavioral medicine tracks within the Human Services Psychology doctoral program. He is currently on leave from UMBC through 2022 while serving as Director of Education for the NHLBI Division of Intramural Research at the National Institutes of Health. Dr. Bediako's unique program of research utilizes innovative research methods and interdisciplinary approaches to enhance our understanding of the social, psychological, and biological complexities of adult adjustment to sickle cell disease. He is also actively engaged in training the next generation of scientist-practitioners to be fluent in sociocultural and historical dimensions of scientific research. Dr. Bediako completed a bachelor's degree in psychology at the University of Central Arkansas and received a master's degree in community psychology from Florida A&M University. He earned a doctorate in social/health psychology from Stony Brook University and has held visiting scholar appointments at Ithaca College, the University of North Carolina at Chapel Hill, and the Johns Hopkins School of Medicine.
Office: Math/Psychology 306
Contact:  (410) 455-2349 | bediako@umbc.edu
Kimberly Moffitt, Professor of American Studies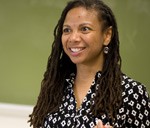 Kimberly R. Moffitt (Ph.D., Howard University) is currently serving as interim dean of the College of Arts, Humanities, and Social Sciences at UMBC. Before assuming this role, she was director of the Language, Literacy and Culture doctoral program and a professor of communication/media studies, as well as affiliate professor of Africana Studies. A media critic whose research focuses on mediated representations of marginalized groups as well as the politicized nature of Black hair and the body, Dr. Moffitt has published several articles and book chapters, as well as five co-edited volumes, including Michelle Obama and the FLOTUS Effect: Platform, Presence, and Agency (Lexington Books, 2019), Gladiators in Suits: Race, Gender, and the Politics of Representation in Scandal (Syracuse University Press, 2019), Blackberries and Redbones: Critical Articulations of Black Hair and Body Politics in Africana Communities (Hampton Press, 2010), The Obama Effect: Multidisciplinary Renderings of the 2008 Campaign (SUNY Press, 2010) and The 1980s: A Transitional Decade? (Lexington Books, 2011). Her latest work explores the black body in Disney programming and the impact of colorism on Black teens. Dr. Moffitt often writes op-ed articles for the Baltimore Sun and is a frequent guest on local public radio, television, and Internet broadcasting programs. She is a member of the public service sorority, Delta Sigma Theta Sorority, Inc., the secretary of the board of the National Association for Media Literacy Education (NAMLE), and the founding parent and former board member of Baltimore Collegiate School for Boys Charter School, a 4th-8th college preparatory school.
Office: 459 Fine Arts
Contact: (410) 455-1451 | kmoffitt@umbc.edu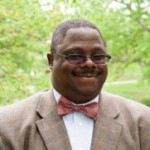 Tyson King-Meadows, Professor of Political Science
Dr. Tyson King-Meadows is a Professor of Political Science. He is also an affiliate of the Maryland Institute for Policy Analysis and Research (MIPAR), an affiliate of the Department of Public Policy, and a Faculty Fellow of the Honors College. He received a B.A. in Political Science from North Carolina Central University and a M.A. and Ph.D. in Political Science from the University of North Carolina at Chapel Hill. His primary research interests concern African American political behavior and attitudes, identity politics, race and representation, Congress, and elections. He is active in the American Political Science Association (APSA), the Midwest Political Science Association (MPSA), and a former president of the National Conference of Black Political Scientists (NCOBPS). Dr. King-Meadows has also received a number of teaching, service, and research awards, including a fellowship to the W. E. B. Du Bois Institute for African American Research at Harvard University, a Fulbright Scholar Award to Ghana, West Africa, and a Ford Foundation Postdoctoral Fellowship for a residency at the Center for African American Studies at Princeton University. He also serves as an Alumni Ambassador of the Fulbright Scholar Program.
Dr. King-Meadows is particularly interested in exploring the impact of black political engagement, civil rights law, identity group politics, and racial representation on the black socioeconomic condition from the latter twentieth century to present day. For example, see the recently released book When the Letter Betrays the Spirit: Voting Rights Enforcement and African American Participation from Lyndon Johnson to Barack Obama (Lexington Books, 2011). This book draws from government data, legislative history, Supreme Court decisions, survey results, and the 2006 reauthorization debate to examine how executive and judicial discretion facilitates violations of the Voting Rights Act. While challenging the executive-centered model of leadership on voting rights, this book puts forth a Congress-centered leadership model that would satisfy the goals of the black civil rights movement and give fuller support to the Fifteenth Amendment. Dr. King-Meadows is also co-author with Thomas F. Schaller of Devolution and Black State Legislators: Challenges and Choices in the Twenty-first Century (State University of New York Press, 2006). His next book (forthcoming from the University of Minnesota Press) examines contemporary racial identity politics and the senatorial and gubernatorial candidacies of black federal representatives.
Office: 442 Fine Arts
Contact: (410) 455-2194 | tkingmea@umbc.edu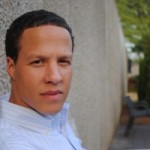 George Derek Musgrove, Associate Professor of History
George Derek Musgrove, Ph.D. is an Associate Professor of History and affiliate Professor Africana Studies at the University of Maryland, Baltimore County. He is the author of Rumor, Repression, and Racial Politics (U. of Georgia, 2012), co-author, with Chris Myers Asch, of Chocolate City, A History of Race and Democracy in the Nation's Capital (UNC, 2017), and several scholarly articles on Washington D.C. and contemporary African American political history. His work has appeared in The Washington Post, National Public Radio, and theRoot. He is currently working on a web-based map of Black Power activism in Washington, D.C., broadly conceived as stretching from 1961 to 1998, and a book project tentatively titled "We must take to the streets again": The Black Power Resurgence in Conservative America, 1980-97, which explores the burst of black activism that rose in opposition to the urban crisis and the conservative retrenchment. He earned his Ph.D. from New York University in 2005 and now lives with his wife and two sons in Washington, D.C.
Office: 509 Fine Arts
Contact: 410-455-2044 | derek.musgrove@umbc.edu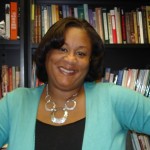 Michelle Scott, Associate Professor of History
Professor Michelle R. Scott's teaching and research interests include 20th-century United States history, African American history, women's history, black musical culture, and civil rights. She has published in Tennessee Women: Their Lives and Times, (University of Georgia Press, 2009) and is the author of Blues Empress in Black Chattanooga: Bessie Smith and the Emerging Urban South (University of Illinois Press, 2008). Professor Scott is currently working on a study of the origins and economic ramifications of a pivotal black vaudeville theater circuit in the 1920s and 30s. She is the recipient of an Andrew W. Mellon Foundation/Woodrow Wilson National Fellowship Foundation Career Enhancement Fellowship, an MHEC Henry C. Welcome Grant, and a Smithsonian Institution Senior Fellowship. She mentors Historical Studies master's and LLC doctoral students, particularly in women's and African American history. Former students have gone on to graduate programs at institutions such as Georgia State University, American University, Morgan State University, and Ohio State University. Professor Scott is an affiliate associate professor in the Africana Studies Department, the Gender and Women's Studies Program, and the Language, Literature, and Culture Doctoral Program. Read a recent interview with Prof. Scott in the UMBC Magazine.
Office: 507 Fine Arts
Contact: 410-455-2035 | mscott@umbc.edu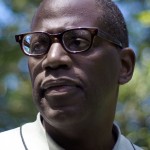 James Smalls, Professor of Art History and Theory
James Smalls is Professor and Chair of the Department of Visual Arts. He is also Affiliate Professor of Gender, Women's, and Sexuality Studies and Affiliate Professor of Language, Literacy, and Culture at UMBC. His research and publications focus on the intersections of race, gender, and queer sexuality in nineteenth-century European art and in the art and culture of the Black diaspora. His most recent publications in these areas include: "Picturing Jimmy, Picturing Self: James Baldwin, Beauford Delaney, and the Color of Light," in Alice Mikal Craven, William E. Dow, and Yoko Nakamura, eds., Of Latitudes Unknown: James Baldwin's Radical Imagination (New York: Bloomsbury Academic, 2019), 35-48; "The Past, Present, and Future of Black Queer Cinema," in Mark Reid, ed., African-American Cinema Through Black Lives Consciousness (Detroit, MI: Wayne State University Press, 2019), 275-296; " 'Expressive Camouflage': Classicism, Race, and Homoerotic Desire in the Male Nudes of Richmond Barthé," Panorama: Journal of the Association of Historians of American Art, no. 1 (Spring 2018), http://journalpanorama.org/expressive-camouflage; "Reading Aaron Douglas as Collage and Pastiche," Revue française d'études américaines, no. 154 (2018): 13-32; and "Sculpting African Nouveau: Primitivism, Ethnography, and Afro-Kitsch in the Works of Woodrow Nash," International Review of African American Art, 26, no. 2 (2016): 29-44. He is the author of Homosexualty in Art (Parkstone Press, 2003), and The Homoerotic Photography of Carl Van Vechten: Public Face, Private Thoughts (Temple University Press, 2006). He is currently working on a book titled Féral Benga: African Muse of Modernism.
Office: 325 Fine Arts
Contact: 410-455-1397 | smalls@umbc.edu