Wednesday, November 11, 2020
6:00 PM – 7:00 PM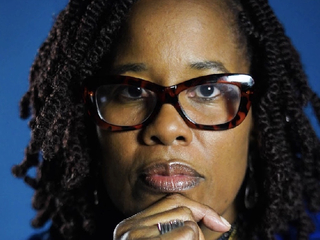 This event is free and open to the public.
AFRICANA STUDIES DEPARTMENT presents the 42nd Annual W.E.B. Du Bois Lecture
Black COVID Stories, Black Lives Matter, and Protest: A Conversation about the Ongoing Struggle for Justice and Change
Karsonya "Kaye" Wise Whitehead, Ph.D. '09, language, literacy, and culture; Associate Professor of African American Studies, Loyola University Maryland; and Radio Host, Today with Dr. Kaye
The year 2020 has been a very difficult one, with the violent deaths of Black men and women at the hands of police and would-be vigilantes and the devastating impact of COVID-19 on the Black and Brown communities. Conversations have been reignited around the country about anti-blackness and anti-racism, policing and justice. As we move forward, questions remain about what the long-term impact will be on our society and the ways in which we can reimagine our way forward. Dr. Kaye Wise Whitehead will address these questions and facilitate a larger conversation about systemic racism, engagement, and the current calls for justice.
Sponsored by The Center for Social Science Scholarship and the Dresher Center for the Humanities.
This event will be recorded and made available on our Youtube channel.
UMBC is committed to creating an accessible and inclusive environment for all faculty, staff, students, and visitors. Closed captioning will be provided.
There is nothing to show at this time.