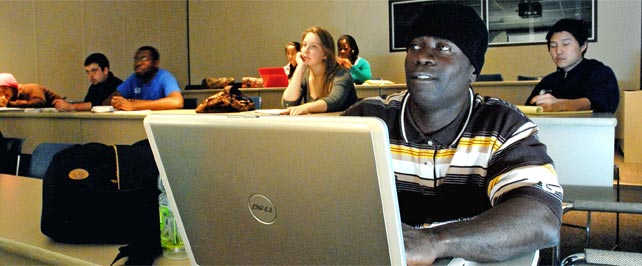 The Department of Africana Studies provides students of all ethnic and cultural backgrounds the opportunity to gain detailed knowledge of African Diasporan experience. Through rigorous course work , students gain a comprehensive overview of the contribution of African peoples to world history, as well as their literary, artistic, political, psychological, scientific, and technological contributions in the Americas, Africa, and other parts of the world. When combined with available research and internship opportunities, this curriculum prepares students for graduate and professional study in a wide array of areas, and it allows them to pursue careers in such fields as public affairs, law, foreign service, health, government, social work, education, the visual and performing arts and business and management.
The major in Africana Studies affords students the full range of intellectual and interdisciplinary skills commensurate with a liberal arts education, namely those of reading and thinking critically, reasoning logically and analytically, writing effectively, speaking fluently, and having a basic understanding of the use of quantitative, i.e., statistical, information. Once having completed the major requirements, students are equipped to demonstrate their knowledge of the histories of Africans and African Diasporan peoples, write critical essays and conduct independent research on Diasporan issues and topics, and develop and utilize strategies designed to alleviate problems in their communities.
Through required learning, research, and internship activities, students thus are afforded experiences that encourage them to make learning a lifelong pursuit, stay well-informed about issues and problems impacting African and African Diasporic communities, and be motivated to provide service to their communities.