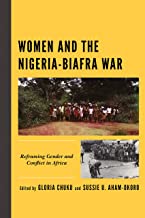 Women and the Nigeria-Biafra War: Reframing Gender and Conflict in Africa
Coeditor: Gloria Chuku
Publisher: Lexington Books, 2020
This first comprehensive study of the Nigeria-Biafra War (1967-1970) through the lens of gender explores the valiant and gallant ways women carried out old and new responsibilities in wartime and immediate postwar Nigeria. The book presents women as embodiments of vulnerability and agency, who demonstrated remarkable resilience and initiative, waging war on all fronts in the face of precarious conditions and scarcities, and maximizing opportunities occasioned by the hostilities. Women's experiences are highlighted through critical analyses of oral interviews, memoirs, life histories, fashion and material culture, international legal conventions, music, as well as governmental and non-governmental sources.

Ethnicities, Nationalities, and Cross-Cultural Representations in Africa and the Diaspora
Editor: Gloria Chuku
Publisher: Carolina Academic Press, 2015
This book explores the global conditions and networks of hegemonic and hierarchical power relations that shaped the history of class, ethnicity, gender, and race, and also determined the nature of African diasporic linkages within imperial and national boundaries.

The Igbo Intellectual Tradition: Creative Conflict in African and African Diasporic Thought
Editor: Gloria Chuku
Publisher: Palgrave Macmillan, 2013
In this groundbreaking collection, leading historians, Africanists, and other scholars document the life and work of eleven Igbo intellectuals who, educated within European traditions, came to terms with the dominance of European thought while making significant contributions to African intellectual history.

Igbo Women and Economic Transformation in Southeastern Nigeria, 1900-1960
Author: Gloria Chuku
Publisher: Routledge, 2005
This study analyzes the complexity and flexibility of gender relations in Igbo society, with emphasis on such major cultural zones as the Anioma, the Ngwa, the Onitsha, the Nsukka, and the Aro.

When the Letter Betrays the Spirit: Voting Rights Enforcement and African American Participation from Lyndon Johnson to Barack Obama
Author: Tyson King-Meadows
Publisher: Lexington Books, 2011
Drawing from government data, legislative history, Supreme Court decisions, survey results, and the 2006 reauthorization debate, When the Letter Betrays the Spirit examines how executive and judicial discretion facilitates violations of the Voting Rights act.

Devolution and Black State Legislators: Challenges and Choices in the Twenty-First Century 
Author: Tyson King-Meadows, Thomas F. Schaller (Contributor)
Publisher: State University of New York Press, 2007
Devolution and Black State Legislators examines whether black state legislators can produce qualitative gains in the substantive representation of black interests. Once a battle cry by southern conservatives, "new federalism" has shifted power from Washington to the respective state governments and, ironically, has done so as black state legislators grow in number.